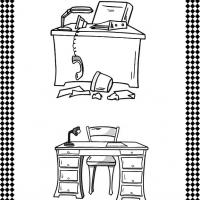 Is being tidy one of those things you either are or you are not?
I'm thinking it might be.
I like things to be tidy.
I'm not judging others here.
I'm just saying I like my spaces to be tidy.
My house, my room, my kids' rooms, my classroom (when I had one), my work spaces.
That's not to say they always are.
But if they're not, I'm cranky.
Mess makes me cranky.
But can you teach tidy?
My mum is incredibly tidy. There is never a thing out of place in her home. It's usually clean too, something mine is not.
That's another one, you're either a clean freak, or you're not. I'm not.
But despite my mother's great effort to teach us all to be neat, tidy and clean...we didn't all turn out that way.
So now I'm questioning whether teaching your children to be tidy is a pointless activity?
They'll know for sure that I value tidiness because I bang on about mess all.the.time.
But what if I spend years nagging them to be tidy, then they move out and happily make mess in their own space?
I don't want to be tidying up after them for years, but I also do not want to nag unnecessarily.
What do you do?
Do you make your kids keep their rooms tidy, or do you do it for them?
Mine are 6 and 3 and I still do it for them mostly.
I do get them to help, or give them a number of things to put away.
My 3 year old is an excellent little helper.
My 6 year old, not so much.
We're getting there, but it is painful.
I guess it's painful for everyone though, right?
Got any tips or tricks for me?
I'll be forever grateful.